It's interesting that when asked what they want to give this season, the overwhelming choice is also not jewelry. Our survey found that only 33.3% want to give jewelry, a result only slightly above sporting goods. But now that we know what people really want is a gift card, we don't have to feel bad about giving them what they really want.
Our data-driven analysis has been recognized by major news outlets across the country and has helped women make savvy financial and lifestyle decisions. While traditionally, jewelry has been a go-to holiday gift item, this year, it came in near the bottom of everybody's gift lists.
For those who really have no clue, opt for a Visa, MasterCard, or American Express gift card (and get one with no usage or activation fees). We publish data-driven analysis to help you save money & make savvy financial decisions. Editorial Note: Any opinions, analyses, reviews or recommendations expressed on this page are those of the author's alone, and have not been reviewed, approved or otherwise endorsed by any card issuer. This compensation may impact how and where products appear on this site (including, for example, the order in which they appear). CreditDonkey does not include all companies or all offers that may be available in the marketplace.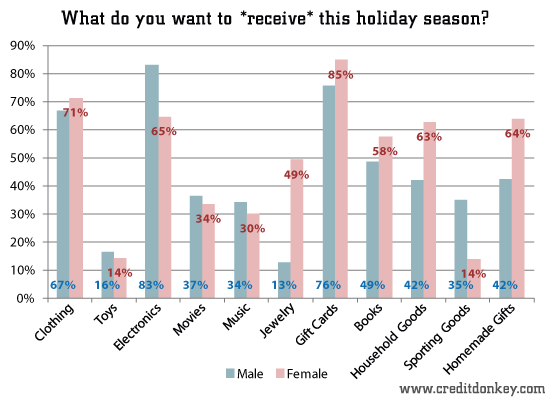 When you click on the "Apply Now" button you can review the terms and conditions on the card issuer's website.
CreditDonkey does not know your individual circumstances and provides information for general educational purposes only.
CreditDonkey is not a substitute for, and should not be used as, professional legal, credit or financial advice.