This entry was posted in Las Vegas Shows and tagged entertainment, hilton, las, menopause, musical, shows, tickets, vegas, women by admin.
Four women at a lingerie sale with nothing in common but a black lace bra AND memory loss, hot flashes, night sweats, not enough sex, too much sex and more!
The work of writer Jeanie Linders, this is a 90-minute production that's sure to tickle the funnybone.
This hilarious musical parody set to classic tunes from the '60's, '70's and '80's will have you cheering and dancing in the aisles!
The show is a celebration of women who are on the brink of, in the middle of, or who have survived the dreaded change. We follow the trials and tribulations, mostly the trials, of four women: the business executive, the housewife from Iowa, the washed-up soap star and the middle-aged hippie.
Set in Bloomindales in New York City, no menopausal stone is left unturned in this hilarious musical.
The actress is in denial about her age and chalks her mood swings up to being part of the acting process. The businesswoman forgets what she's supposed to talk about in the meeting she is about to lead, thanks to her menopausal brain fog. The overweight Iowa housewife hates the physical changes forced on her body and can't fit into the skimpy lingerie she so desperately wants to buy on her first trip to New York that she hopes will put. Our Earth Mother is way too cranky to successfully meditate any more, so she eats too much and terrorizes her husband instead. The female bonding of these women, strangers at first who meet at Bloomies, eventually leads them to realize there is no reason not to be happy.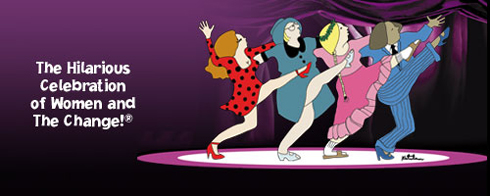 They are at a stage in their life where they know who they are and finally become empowered.
In honor of their newfound empowerment, they belt a couple of numbers not about their husbands, but about their new battery-operated friends. The production ends with the audience being invited on stage to be part of the celebration.