March 20, 2015 By Nancy Bailey 29 Comments I probably would have ignored a recent smug opinion piece by Beth Kassab in the Orlando Sentinel, who scoffs at parents who choose opting their children out of the tests. Thomas likens test-taking to having a colonoscopy or his teeth cleaned and a bunch of other unpleasant but necessary tasks. So I take tests seriously, although I have always known that no test is perfect, and no test should define a child. For two years I worked with students with developmental disabilities, and we used observational tests–different tests, but no less important.
But the most terrible part of today's testing is how the students themselves are treated throughout the school year. I might add, when I hear of teachers who are torn between speaking out against the test, in what many see as malpractice in their profession, and with getting a much needed paycheck, I have to ask myself, what kind of country are we living in?
These test-obsessed writers are smaller fish in a larger pond of columnists and reporters who hail the tests and diss those who don't.
I would ask all three of them what they think about the cruel and unusual testing of students like Ethan Rediske. These columnists need to refresh themselves as to what is happening in schools, or they need to find another topic to write about.
If, in a neighborhood, enough people fail to prep for the colonoscopy since they don't have money for laxatives, their colonoscopy center will be taken over and the doctors get replaced by 22 year old kids who were trained for 5 weeks for the job. Nancy, I can't help but wonder how many of these pro testing columnists actually have kids in public school?
If you test someone on material they are trying to learn, the process of recalling will help strengthen the memory better than more study on the topic.
As a teacher, I was compulsive about getting test results back at the beginning of the next class. Enter your email address to subscribe to my blog and receive notifications of new posts by email.
This book says "no" to the reforms that fail, and challenges Americans to address the real student needs that will fix public schools and make America strong. Yesterday I shared a little nursery rhyme about mean, mode, and median on my facebook page. I whipped up a little practice sheet to go along with the rhyme, and thought I'd share it with you all here.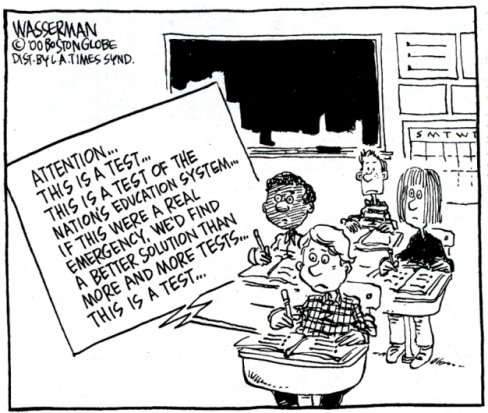 But another snotty write-up in a similar vein by Mike Thomas, from Jeb Bush's Foundation of Excellence, followed quickly on its heels. He tries to teach the rest of us that he would like to opt out of this stuff, but these procedures are good for keeping him healthy. I, myself, am not always a good test taker, so I understand what it feels like not to do well on a test.
Or, the tests are the new wave of money-makers, like the PARCC and Smarter Balance, connected to the unproven Common Core State Standards.
What do they say to Ethan's mother, Andrea, who courageously spoke out against the tests while she was mourning the loss of Ethan? If the administrators and policy makers don't change the rules when it comes to bad testing, the parents and courageous educators will eventually do it for them.
I don't want to get carried away with colonoscopy talk, but John I really think your analogy is much better than mine! This means that when you are trying to learn something, you should build in self-testing (recall) to be a more effective learner.
I used to to get especially irritated when the test results didn't come in until after students went home for the summer. Just click HERE or on the pic below to download your own copy (there is a coloured and black and white version for you).
My job was never on the line, and while schools and school districts cared about test results, they were not as maniacally obsessed with the tests like they are today. Many believe these tests are seriously flawed and do not appropriately consider the age development of the child. I blame the politicians and so-called education leaders like Florida's Education Commissioner Pam Stewart who continue to ignore parental concerns about testing. Parents who recognize that high-stakes tests are wrong for their children should have every right to ask that their children not be tested. The questions raised about the sheer volume and limited usefulness of the testing program are valid questions. Or those who never went to public school, or who never had their children in them, actually create the harmful policies public school students have to live with. The big problem with the test and punish movement is that they are one-size-fits-all tests and don't make any effort to test kids on what they should know.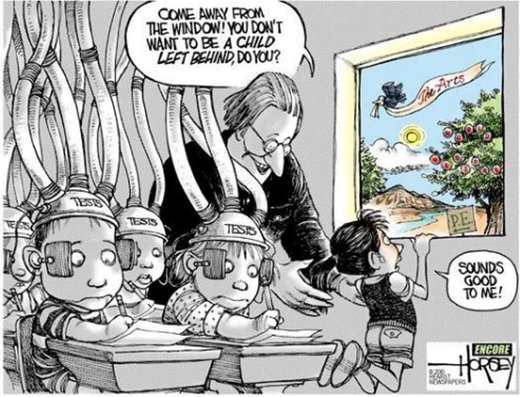 What if the doctor loses her job because the perfectly legitimate colonoscopies show that a high number of patients have some problems?
The problem with the state tests is that they don't set the cut points until after the geeks in the back room and the policy makers sift through the results and decide what results they want. How would he like to have 100 colonoscopies per year, and in-between those procedures, be prepping every day for the tests! That it is taking so long for parents to be heard is what is most troubling and what I see as the larger real crisis.
I believe the opt-out parents have a better understanding about what's going on in schools than anyone, including these two writers who represent vested interests.
I have administered a variety of tests—including the standardized kind where I assisted students with accommodations. So, if a majority of parents don't want the tests today, so much so that a good number of them refuse to let their children take the tests, shouldn't those in charge reconsider the tests? She may do research and she may get her work promoted in the top media outlets, but she is no child expert.
We really should not forget Ethan, just because he was Ethan, but many of us highly resent the bad use of bad testing in that situation. I plowed through valuable courses in undergraduate and graduate school to learn how to, not only administer tests, but to derive meaning from them. Criterion referenced tests can be useful, but the state tests have a norm reference feel even if the people responsible might not admit it. And test administration, preparation, materials, and services now dominate the time and energy of public schools. The misuse and overuse of testing has become the most newsworthy issue in most communities today.
The colonoscopies will be designed by a variety of people who have no medical licenses—maybe David Coleman, Arne Duncan, Bill Gates, et cetera.