In Japan, sports are generally a mixed gender affair, as in, both men and women partake in most sports.
The team features the very best of Japan's female soccer players and has history dating all the way back to the 1970s, wherein the country saw an influx of women wanting to play in organized teams. Due to the formation of the team and its international acknowledgement, football gained significant momentum throughout the Land of the Rising Sun, especially among the female demographic.
It's worth noting that Japanese women have been more and more involved in previously male-dominated sports. An interesting point to note is that the Japanese Women's National Football Team has been more internationally successful than its male counterpart team. Volleyball cheerleaders rehearse before the women's beach volleyball semi-final at the 3rd Asian Beach Games in Haiyang, Shandong Province on June 17, 2012.
Interestingly enough, the sport has not quite managed to also reign in the number one spot in Japan in terms of popularity, trailing in second place behind the even locally more popular sport of Baseball. Of course, there are some sports that women seem to hold very little interest in, including Sumo wrestling among others, but the ones that are popular among the fairer gender do hold serious competitions. Quickly regional leagues were established and the first Japanese women's international team was established in 1981 with players selected from some of the regional leagues.
A few short years following the formation of the team, the Japan Women's Football League, or L.League for short, was established as the highest form of national competition for the professional female football players of the nation. This is certainly a mark of modernization, with Japanese women no longer seen as simply subservient to men; women have come a long way in Japan, especially since the government apologized and atoned for war atrocities such as the Japan comfort women in the early 1990s. The team managed to win the 2011 FIFA Women's World Cup held in Germany by defeating the USA Team in a penalty shootout, making the Japanese women the first Asian team to have won a world cup title.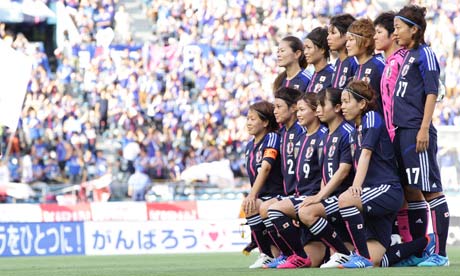 Regardless, Japan has taken a great liking to the sport and is widely considered as one of the top asian teams – for both the male and female sides of the sport.
Football is one of the sports that the women of Japan have taken a liking to, as evidenced by the success of the Japan Women's National Football Team.
Only a few years later in 1986 did the first "All Japan" women's football team form, spearheaded by their coach Ryohei Suzuki.
Unlike the very first version of the team, this one was nationally recognized as having players from all leagues of Japan, and the team made its international debut in a game against Indonesia, coincidentally also suffering its first loss.