In order to be able to listen to the samples you must install Flash Player 9 or newer version. As a James fan from the minute I heard You Got My Mind Messed Up on Radio Caroline South's weekly survey of the US Cashbox Hot 100 back in 1966, I could not be more thrilled than I am to have been involved in the reissue of his vintage repertoire. I feel confident that all of James' fans will share my delight in being able to bring even more of his sensational Goldwax masters back to catalogue after all too long an absence. The release of our expanded CD of You Got My Mind Messed Up (CDKEND 211) brought mostly praise from the press and public alike.
However, a very small minority deemed it necessary to bellyache about some inevitable song duplication from our JC Complete Goldwax Singles set (CDKEND 202), ignoring a) the 'duplicated' tracks were part of the original You Got My Mind Messed album, and thus had to be part of the CD issue and b) the tracks in question were presented in stereo on YGMMMU, and in mono - per the original 45s - on JCCGS. In an attempt to prevent a repeat performance from those in question I feel it's my duty to point out that the further duplications here from both our previous James CDs are a) made to preserve the running order of the original US and UK albums and b) will not in any way detract from anyone's overall listening pleasure - which will be great!
As with our earlier reissue of the YGMMMU album, I have expanded the original track listing to take advantage of the 79+ minute running time of a CD. In this instance my work had partly been done for me already by Ace partner Trevor Churchill!
When he was UK label manager for Bell Records, Trevor had already added seven tracks to the 1968 UK issue of Goldwax LP 3002 in order to bolster the fairly scant running time of the US original! Most of my extra additions have only previously been available on Japanese Goldwax CDs (if "available" is the right word to describe any Japanese CD!) and one of the tracks, James' version of Johnny Cash's Ring Of Fire has never been released before anywhere in the world. Those who wish to listen to the original US album will find it occupying tracks 1-11 of this CD, and if your preference is for the UK version, it spans tracks 1-16.
Speaking of stereo, studio whiz and JC fan Rob Keyloch has once again remixed the original Goldwax multitrack tapes - where such things still exist - to present most of the stereo selections in a way that gives the listener a better sound balance, while retaining all the integrity of the original 1960s mixes.
I did say 'most' - the multi for More Love and You Didn't Know It But You Had Me don't appear to have survived, so we've deferred to the original Goldwax mixes on those tracks out of necessity.
The title track is both a masterpiece of lyrical simile, and one of James' finest all-round deep soul performances.
Don't be fooled by the seemingly innocuous titles of A Message To Young Lovers and A Woman Is A Man's Best Friend for they, too, are both deeper than soul itself and explicit exercises in musical self-pity.
James' take on the Masqueraders' Vietnam war song Let's Face Facts is as anguished a performance as you'd expect from a man who's going off to a war from which he might never return.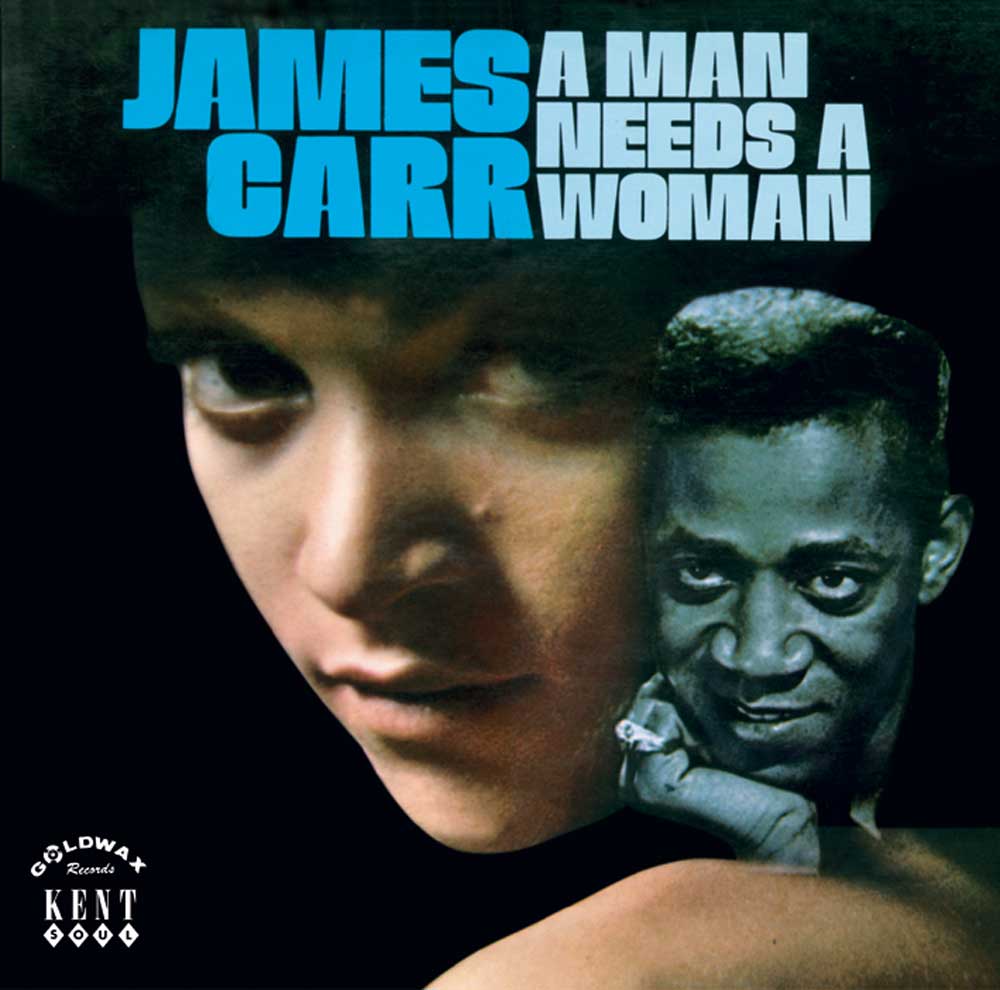 Tracks like the originally unissued Lifetime Of A Man and You Hurt So Good are definitive of what Southern soul is really about. And as for the reprises of Dark End Of The Street and You Got My Mind Messed Up, they are as welcome here as they would be on a thousand other CD reissues and remain high watermarks for James, Goldwax and the whole genre of deep soul. The remaining four - the alternate recordings of Love Attack and Pouring Water On A Drowning Man, the duet with Barbara Perry on I Can't Help Myself and the unedited version of What The World needs Now Is Love - will, I assure you, be released on forthcoming Kent compilations.
James Carr's body of work may have been scandalously small in comparison to the span of his career, but he made just about every second of it count. Here are another 24 classic sides from this seminal Memphis soulman that more than bear out the previous statement.