As you embark on a new relationship, there are many things you'd like to know about your partner. Sometimes the questions may or may not have anything to do with your relationship, but they may still provide valuable insights into your partner's psyche and personality. If I promise not to get upset, can you tell me something that you'd like to change in me but don't have the nerve to tell me?
If you weren't in the profession you are, what would be your other dream profession and why? Apart from the most obvious one, which other two areas of your body are the most sensitive and responsive? Can you give me a mock session of how you would discuss sex education when you have a child?
Your first date – where did you go, what did you do and how long did the relationship last? If you won the lottery, what are the first three things you would do and which are the five things you've been most longing for, that you would buy?
Which is your favourite flavour of ice cream, your favourite junk food and your favourite dessert?
Your favourite song of all times and why – is it because of the lyrics, because of the memories associated with it or just the whole package? Never Not FunnyNever Not Funny is a weekly podcast hosted by comedian Jimmy Pardo since spring 2006. 101 Dating Questions: Dating Tips and Advices, Including Fun, Interesting and Ice Breaker Questions You Should KnowFor many people dating can be an extremely nerve wracking process. NOTE: There is some foul language and adult humor inside, so it's really not intended for children. As a result, some daters find it difficult to initiate and maintain an engaging conversation and consequently fail to impress their dates.
The Thanksgiving holiday had been good to him, enabling Bottom Dollar Buick to sell half of its fleet of used cars. You could decide to target two questions a week and both of you write down your answers to them on paper or email them to each other.
This can be a wonderful way to just have fun or really get to know your partner more deeply. Or simply share the answers verbally with each other, which has the added advantage of being able to laugh together at the responses you get.
Former co-host Mike Schmidt appeared for all of season one, except for episode 60 when his departure was announced. The show moved to a pay format in March 2008, with the first twenty minutes of each show remaining available to non-paying subscribers. It subsequently returned to free distribution when it joined the Earwolf network in January 2014, with a premium subscription available for access to video and weekly bonus episodes. Topics discussed range from music and popular culture to personal lives and amusing or interesting anecdotes.
Starting with season three, the last 5–20 minutes were dedicated to a listener-submitted "Stupid Question Of The Week." The segment has since been retired.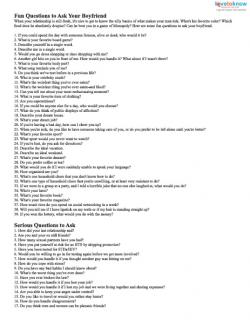 At the beginning of season five, a new segment called "Judge Jimmy" was introduced, in which the cast settled a listener-submitted dispute with Pardo as judge and Belknap and the guest as the attorneys. Until the end of the third season, the show was recorded in a single take without any editing. After the Chino, CA earthquake in August 2008 forced the show to stop briefly (originally so Jimmy, Matt and guest Patton Oswalt could check on family members) the podcast has had one small break per episode.
History Never Not Funny began when Matt Belknap interviewed Pardo on the podcast for his popular alternative comedy forum A Special Thing. The two had previously discussed producing a podcast version of Jimmy's Los Angeles show "Running Your Trap," which he hosted at the Upright Citizens Brigade Theatre, but they hit it off so well on AST Radio that Pardo said "This is the show." The first episode featured Pardo, Belknap, and guest Mike Schmidt.
Pat Francis was scheduled for episode 2, but when he was unavailable, Schmidt (usually referred to by Pardo as "The Former Third Baseman" after the similarly named baseball player) became the permanent co-host. Every fourth episode would feature a guest such as Pat Francis, Scott Aukerman or Graham Elwood.
Midway through the first season, the theme song was changed from a brief portion of an unnamed instrumental song by Jimmy's close friend Daver to "Mad At The World" by Daver, with sound bites from previous episodes mixed into the song. This three-man setup lasted for sixty episodes, including a clip show and two live shows recorded at the UCB Theatre. The show went through little change throughout the first season until episode sixty, when Jimmy announced that his relationship with Mike Schmidt had become strained through the years and that they had decided to go their separate ways; Schmidt left the show in an attempt to reconcile their friendship. Instead of the former three-man lineup, Pardo and Belknap appeared as the only regulars, along with a rotating guest every episode.
Pat Francis was the guest for the first episode of the second season, which began the tradition of Francis being the "third chair" and appearing on every fourth episode.
It was in the second season that the show received its first sponsorship, lasting only a few weeks. On episode 39 of the second season, it was announced that the show would move to a pay format beginning with season three. Listeners would have to pay to continue receiving the complete podcast, although the first twenty minutes of each episode would still be available for free.
Only 5 minute clips of the show were available on video during season three, which were hosted on Koenig's site Monkey Go Lucky, but beginning with season four, full video of the show became available for $24.99.
An episode was released in remembrance, highlighting some of Koenig's best moments throughout his time on the show, and Pardo has since memorialized Koenig at the close of every episode with the parting words, "AK-47, gone, not forgotten." Andrew's close friend Eliot Hochberg, who had been providing the video equipment, assumed his role as videographer. Shortly afterwards they hired an intern, Dan Katz, aka "Tabasco Ears." Katz left the show at the beginning of season 11 and was replaced by Pop Culture Beast editor Garon Cockrell, aka "The Beast," shortly after. On episode 1325, it was announced that at the beginning of season 14, Never Not Funny would change to a free show in audio format.
Plus, Never Not Funny would also join the Earwolf podcast network, co-owned by Scott Aukerman (who was the guest on the episode and one of the only guests to appear in every season). Full audio would be available on Earwolf, iTunes and NNF's feed, while video of the episodes were part of the new "Players Club" package for Primo subscribers. Subscribers of the Players Club would also get an additional weekly episode (audio and video), plus bonus material such as live shows. A  I learned something from every man I met or exchanged emails with, and Lou taught me a few words in Spanish.A  Ole!
Pardcast-A-Thon A mini episode was released at the beginning of season six that announced Never Not Funny would be doing a live, streaming podcast on their website to raise money in benefit of Smile Train. Pardo, Belknap and Francis welcomed guests such as Chris Hardwick, Jon Hamm and Rich Sommer from Mad Men and Oscar Nunez. The next year at Pardcast-A-Thon 2010, they changed the venue to the Acme Comedy Theater and went 12 hours instead of 9 to give even more of a telethon vibe (and raise more money). By the end of the event, the amount of money raised was almost double the previous year's total with $41,000. Pardcast-A-Thon 2012 was expected to the biggest to date with a goal of $50,000 by the end of the night. The hours were changed to 12 pm to 12 am PST so people on the East Coast could stay up later and donate more. Guests included Bob Saget, Conan O'Brien, Simon Helberg, Kevin Nealon, Colin Hay and Zach Galifianakis. The goal of $50,000 was not only raised after 13.5 hours, but midway through an anonymous donor said they would match the end total, making the grand total over $100,000.
The 5th Annual Pardcast-A-Thon went by with flying colors with the guys raising over $130,000 (half of that thanks to the anonymous donor again) by the end of the night. Guests included Patton Oswalt, Jack Wagner, Phil Hendrie, Zach Galifianakis, Bob Odenkirk and Andy Richter.
With Federman as the house band again, Jimmy and the gang raised a record $156,000 over the night. Guests included Weird Al Yankovic, Jack McBrayer, Paul Dooley, Fred Willard, Billy Eichner, Patton Oswalt, Sarah Silverman and more. Jimmy and Matt stated in a Season 16 episode that The 7th Annual Pardcast-A-Thon will not take place on Black Friday 2015, due to scheduling conflicts in the past. We can take a little walk, maybe get our feet wet, and then lie on a blanket and listen to the waves. Awards Never Not Funny was the winner a 2008 Rooftop Comedy Award for best Comedy podcast. I do the same thing myself, when the mood strikes.A  And how about this for being an "in tune with women" kinda guy?A  A few days after I had ordered myself 2 new green dresses and several in black to add to my collection from a mail order company named Newport News, he sent an email asking:A  "So, what are you wearing right now?
A  For Christ Sake!!A  How about saving the Taxpayers a buck?A  In addition to that $6 million you've already blown by hovering and covering me, and scheduling a proper Face to Base meeting in your office; at my convenience? Dramatic, but no drama.A  Short black skirt, or long black dress?A  Heels or boots?A  Camo, or commando?
Until then, as in the end,there is much more to come.A A A  Once Upon a Time, a little mushroom popped through the moss covered ground of the Southeast Alaska Rainforest.
Grant, Attorney at Law, Juneau, AK From Wedding Bells to Tales to Tell: The Affidavit of Eric William Swanson, my former spouse AFFIDAVIT OF SHANNON MARIE MCCORMICK, My Former Best Friend THE AFFIDAVIT OF VALERIE BRITTINA ROSE, My daughter, aged 21 THE BEAGLE BRAYS! HELL'S BELLS: THE TELLS OF THE ELVES RING LOUD AND CLEAR IDENTITY THEFT, MISINFORMATION, AND THE GETTING THE INFAMOUS RUNAROUND Double Entendre and DoubleSpeak, Innuendos and Intimidation, Coercion v Common Sense, Komply (with a K) v Knowledge = DDIICCKK; Who's Gunna Call it a Draw?