TUUK LIGHTSPEED 2 POWER: The new Lightspeed 2 Power holder & runner is stronger and more ridgid than the classic Lightspeed 2. TENDON GUARD: The molded tendon guard was designed to reduce weight and deliver superior flexibility around the ankle. CONSTRUCTION: Extensive research with the Nike Sports Research Lab and Biomechanics department provided a new way to fit the skates using 15 unique pressure sensors. RANGE OF MOTION: After extensive video analysis, Nike Bauer modified the boot and tendon guard to enhance forward-backward flex.
The Nike Bauer Supreme One90 (their lightest skate to date) was designed for the power skater, providing revolutionary speed while maximizing energy transfer with each stride. The POWER is also designed with a longer runner to maximize blade to ice contact and increase speed and energy transfer with each stride. The result was an even distribution of pressure across the entire foot resulting in zero negative space & heightened power with each stride. This provides a greater range of motion, allowing players to generate every last ounce of energy & speed.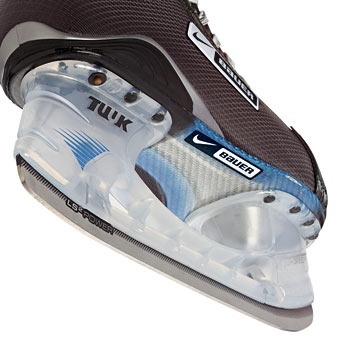 The fit is unlike any other skate with zero negative space inside providing the ultimate in comfort, fit and effeciency.
Featuring the NEW Lightspeed 2 Power Holder & Runner (longer and stiffer than the classic Lightspeed 2 for better performance and more power with each stride).